Best Sea Eagle Inflatable Kayak
Inflatable kayaks offer an excellent combination of portability, convenience, and performance for water enthusiasts. Many people who enjoy spending time on rivers, lakes, and coastal waters are discovering the advantages of inflatable kayaks over traditional hardshell counterparts. Inflatable kayaks are easier to transport, store, and set up, making them appealing for individuals and families alike.
A particular category of inflatable kayaks, made by Sea Eagle, has become a popular choice for those who engage in touring, fishing, and recreational paddling. These kayaks showcase impressive buoyancy, stability, and maneuverability, making them suitable for various water conditions. They are made from high-quality materials that ensure durability and resistance to punctures.
When selecting from the best inflatable kayaks, critical considerations include the kayak's material, weight capacity, storage options, and ease of assembly and disassembly. Understanding your preferences and needs will help you choose the right kayak for your adventures on the water.
We have put our extensive experience to good use by dedicating numerous hours to researching and testing the best Sea Eagle kayaks on the market, guiding you to find the ideal one for your needs and enjoyment.
The Top Sea Eagle Kayaks
We have compiled a list of the best inflatable kayaks to help you find the perfect one for your next adventure. Browse through our top picks below and discover the ideal kayak to suit your needs.
The Sea Eagle 420X Explorer Kayak Deluxe Package is perfect for adventure seekers looking for a versatile inflatable kayak that can handle various water conditions.
Pros
Outstanding durability and ruggedness
Suitable for up to Class IV rapids
Spacious enough for 2-3 adults or up to 855 pounds
Cons
Heavier at 54 pounds compared to other inflatable kayaks
May take some time to inflate manually
Not ideal for smaller passengers or those seeking high performance
We recently had the opportunity to try out the Sea Eagle 420X kayak on a wilderness expedition trip. This inflatable kayak truly impressed us with its resilience and overall performance. Designed for both calm and rough water conditions, this kayak can handle up to Class IV rapids, making it perfect for adventurers who love to tackle challenging waters.
Crafted from 1000-denier, polyester-supported, high-pressure fabric, the 420X boasts an incredibly robust construction that can withstand impact from sharp objects and intense water pressure. In fact, we hardly noticed any wear and tear on the kayak after an entire day of traversing rapids and bumping against rocks. The integrated bow and stern spray skirts with water-deflecting guards kept us relatively dry during our journey.
This inflatable kayak can comfortably accommodate up to three adults and gear, up to 855 pounds. The Deluxe Package includes two 7'10" AB30 paddles, two deluxe inflatable kayak seats, a kayak carry bag, a hand pump, a slide-in swept-back skeg, a repair kit, and instructions. Despite its spaciousness, inflating the kayak took us only about nine minutes. However, we did notice that it's heavier than other inflatable kayaks, which could be a disadvantage for some.
The Sea Eagle 420X Explorer Deluxe Package truly offers a fantastic blend of durability, versatility, and capacity. We recommend it for experienced adventurers who seek an inflatable kayak that can handle rigorous water conditions and extended trips.
The Sea Eagle 380X Explorer Inflatable Kayak is a versatile and durable choice for those seeking adventure on the water.
Pros
Rugged design suitable for solo or tandem kayaking
High weight capacity (750 lbs) and multiple drain options
Removable slide skeg for improved tracking on open water
Cons
Some users may find it challenging to inflate or deflate
Weighs 40 lbs, which might be heavy for some people
Learning curve required for newcomers to kayaking
We recently tried out the Sea Eagle 380X Explorer Inflatable Kayak and were impressed by its rugged design. The kayak is made from 1000-denier polyester-supported, high-pressure fabric, which protects against punctures. The kayak proved to be comfortable on flat-water, but it is also tough enough for class four whitewater.
The 380X has four extra-large convertible drains that work well in both wet and dry conditions. It is suitable for one or two adults, with a weight capacity of up to 750 pounds. This kayak's removable slide skeg also significantly improved our tracking on open water.
Inflation took a bit of effort, but the hand pump included in the Pro Package helped to speed up the process. Overall, it took us about 8 minutes to inflate the kayak. Keep in mind that this kayak weighs 40 lbs, which might be a bit heavy for some people to carry. If you're new to kayaking, it's worth mentioning that the 380X Explorer may require a bit of practice to get used to, but this learning curve is common with most kayaks.
In summary, the Sea Eagle 380X Explorer Inflatable Kayak is an excellent choice for kayaking enthusiasts and adventurers who value durability, versatility, and the ability to tackle various water conditions.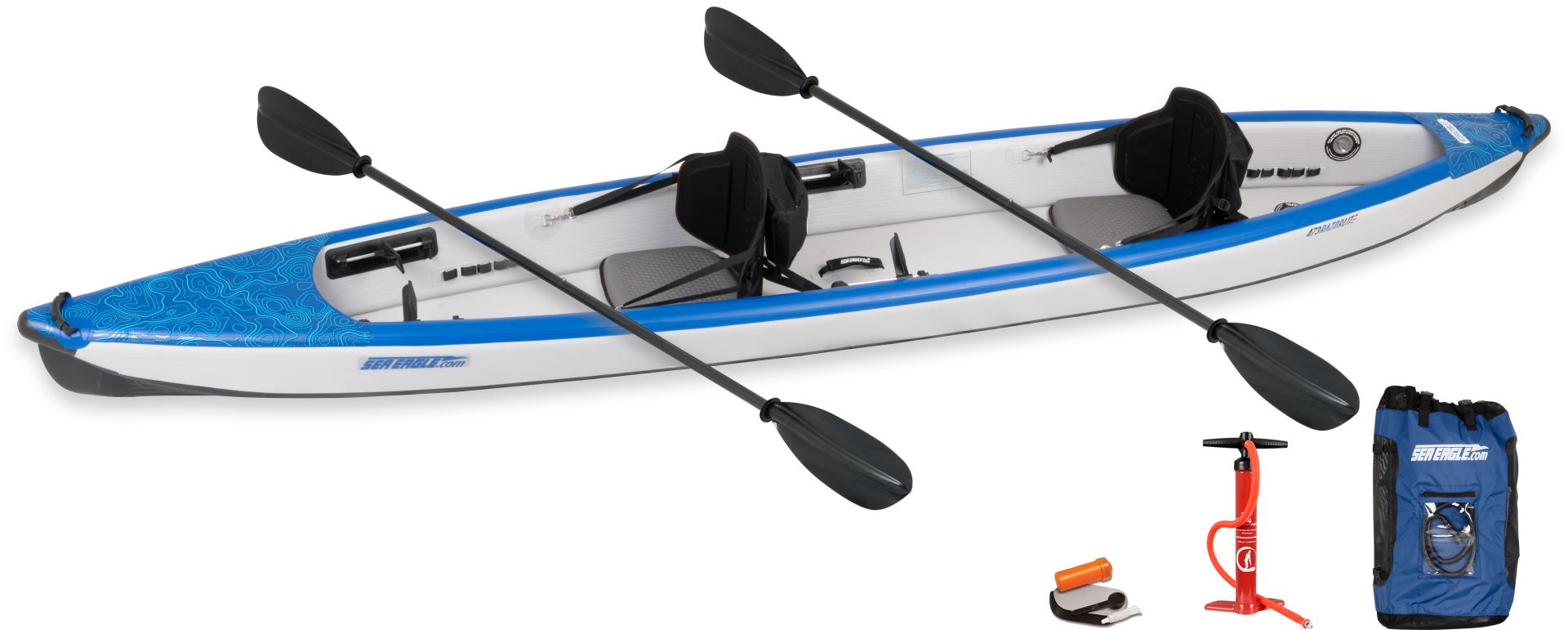 The Sea Eagle RazorLite Inflatable Kayak is a fantastic choice for adventurers looking for a high-performance, easy-to-handle, and lightweight kayak.
Pros
Lightweight and easy for two people to handle
High-performance design for great paddling speed
Quick and simple setup and takedown
Cons
Not ideal for beginners due to its performance capabilities
Open cockpit design may not be preferred by some users
May not be as durable as traditional rigid kayaks
We recently took the Sea Eagle RazorLite Inflatable Kayak out for a spin, and it exceeded our expectations in various ways. Its all Drop Stitch construction is not only lightweight, but it also provides rigidity comparable to that of traditional rigid kayaks. At 45 lbs, it is significantly lighter and more manageable than its counterparts that can weigh up to 60 lbs or more.
The RazorLite's patented rigid bow and stern molds are made of engineered plastic, providing excellent rigidity and strength. This design allows the kayak to cut through wind and waves, enabling paddling speeds of up to 6 mph, which is impressive for an inflatable kayak.
One potential drawback for some users might be the open cockpit design. While it does make entering and exiting the kayak easier, it lacks the enclosed nature that some kayakers prefer. Furthermore, this design might not offer as much protection from water splashes or weather elements compared to closed kayaks.
The Sea Eagle RazorLite comes equipped with several helpful features like the adjustable FlexBrace footrests, high-quality adjustable tall back seats, and all the necessary equipment to get out on the water like carbon fiber paddles, a piston pump, and a backpack. All these features enhance the overall kayaking experience.
We appreciated the quick and straightforward setup, only taking around eight minutes to inflate and not requiring any car roof kayak carrier. The takedown was just as easy – just open the valves, roll it up, and pack it in the provided convenient backpack.
Overall, the Sea Eagle RazorLite Inflatable Kayak is an excellent option for intermediate and advanced paddlers searching for a lightweight, high-performance inflatable kayak. The pros outweigh the cons, and we would highly recommend giving it a try on your next kayaking adventure.
The Sea Eagle SE370 Inflatable Sports Kayak is a versatile and portable option for beginners and experienced paddlers alike.
Pros
Lightweight and portable
Durable and rugged construction
Efficient hull shape for swift paddling
Cons
Best suited for two persons despite 3-person rating
Valve holding rings may need warming for easy installation
Deluxe version comes with basic seats, not Pro seats
We recently had the opportunity to use the Sea Eagle SE370 Inflatable Sports Kayak, and we found it to be a great value for those looking for a portable and efficient option. The lightweight design allows for easy transportation and quick set up, making it perfect for exploring various waterways or even taking on a camping trip.
The durable vinyl materials and I-beam floor provide a rugged kayak that can withstand unexpected outdoor elements and even Class III whitewater. However, although the SE370 is rated to hold three people or 650 lbs., we found it to be more space-wise suited for two persons, making it the ideal choice for couples or friends looking for a shared adventure.
As for the performance, the efficient hull shape allows for swift paddling and easy handling, which makes it an enjoyable experience for both beginners and experienced kayakers. The inflatable seats offer decent back support and allow you to sit 5 inches off the floor, providing a comfortable ride even during longer excursions.
One of the minor issues we faced with the SE370 was the tight valve holding rings. We followed the recommendation from other users to place them in hot water for a few seconds, which helped soften them and made it easier to install. It's also worth noting that with the Deluxe package, not the Pro, the seats included are basic and not the more comfortable Pro seats you might expect, so keep that in mind when deciding to purchase.
Overall, the Sea Eagle SE370 Inflatable Sports Kayak is an excellent option for those looking for an affordable and versatile kayak that is easy to transport and set up. Its lightweight construction and efficient design make it a joy to use on various types of waterways. Just be prepared for the minor drawbacks discussed, and you'll have a fantastic time on the water.
We highly recommend the Sea Eagle 300X Explorer inflatable kayak for its versatility, durability, and excellent performance in various water conditions.
Pros
Tackles whitewater, open-water, and surf effectively
Quick self-bailing with 16 floor drains
Removable slide skeg for improved tracking
Cons
Manually securing the floor drains can be tedious
Requires regular inspection for optimal functionality
Might be heavy for some users when deflated
We recently had the pleasure of using the Sea Eagle 300X Explorer inflatable kayak, and we were impressed with its adaptability to various water conditions, including whitewater, open-water, and surf. This versatility makes it perfect for those seeking a kayak for multiple purposes, such as fishing, touring, camping, and exploring.
One of the standout features of the 300X Explorer is its efficient self-bailing system, which boasts 16 floor drains that can be left open for wet whitewater and ocean kayaking. Alternatively, they can be closed for high and dry flat-water paddling. We found this feature immensely helpful in keeping the kayak steady and comfortable during our adventures.
Another notable feature of the Sea Eagle 300X is the removable slide skeg, which improves tracking on open water. This addition significantly enhanced our overall kayaking experience by offering more control and stability in various water environments.
However, we found that manually securing the floor drains could be a bit tedious, and using the kayak requires regular inspection to ensure optimal functionality. In addition, although the kayak is lightweight and easy to carry when inflated, some users might find it heavier when deflated and packed for transportation.
In conclusion, the Sea Eagle 300X Explorer inflatable kayak is a versatile and durable choice for those seeking a kayak that can handle different water conditions. Its key features, such as the self-bailing system, removable slide skeg, and overall adaptability, make it an excellent investment for a fun and adventurous experience on the water.
Buying Guide
When it comes to choosing the best sea eagle inflatable kayak, there are several factors we need to consider. This buying guide will help you navigate through those features to make an informed decision.
Stability and Durability
One of the most important things to look for when choosing an inflatable kayak is stability and durability, especially for use in the sea. Make sure to choose a kayak with a stable hull design, which can handle the waves and changing conditions. On top of that, material quality is crucial for the kayak to withstand saltwater and debris. Some common materials used for this purpose are PVC, Hypalon, and Nitrylon.
Size and Weight Capacity
Another factor to consider is the dimensions and weight capacity of the kayak. This should align with your specific usage - whether you will be paddling solo or with a partner. Additionally, keep in mind the combined weight of paddlers, gears, and any other necessary equipment. A kayak with sufficient room and weight capacity will ensure a comfortable and safe paddling experience. For example:
| Kayak Type | Recommended Weight Capacity |
| --- | --- |
| Solo | 250-300 lbs |
| Tandem | 450-600 lbs |
Ease of Transport and Storage
Inflatable kayaks, by nature, are designed to be lightweight and portable. However, there can be significant differences in packability among various models. Look for a kayak that is easy to set up, deflate, and fold away. A carrying bag or backpack, as well as lightweight paddles and pump, are also desirable features that make transportation and storage a breeze.
Seating and Comfort
Comfort is key during long paddling sessions. High-quality seats with adjustable backrests and ample padding can make a significant difference. Some kayaks even offer the flexibility of repositioning or removing the seats to suit your preferences. Make sure to choose a kayak with comfortable seating and sufficient legroom.
Accessories and Additional Features
There are various accessories and features that can enhance your sea eagle inflatable kayak experience. For instance:
Paddle holders: Paddle holders are convenient to keep your paddles secure when not in use.
Bungee storage: Bungee storage is useful for securing your gear and keeping it within reach.
Rudders and skegs: Rudders and skegs enhance the kayak's tracking and maneuverability.
These factors, along with the quality of the included accessories such as the paddles and pump, should be taken into account while making your decision.
By considering all these crucial features, you'll be able to select the perfect sea eagle inflatable kayak for your needs. Happy paddling!
Frequently Asked Questions
How durable are Sea Eagle inflatable kayaks?
Sea Eagle inflatable kayaks are designed with durability in mind. They use high-quality materials such as 1000-denier reinforced PVC to ensure Sea Eagle kayaks are puncture-resistant. Sea Eagle also employs electronically welded seams for added strength and longevity. These features make Sea Eagle kayaks suitable for various water conditions, from calm lakes to whitewater rapids.
Which Sea Eagle model is best for two persons?
For a two-person Sea Eagle inflatable kayak, we recommend the Sea Eagle 370 Pro. This model offers ample space for two paddlers and their gear, with a carrying capacity of up to 650 pounds. The kayak features three air chambers for added safety, and it comes with deluxe seats to ensure comfort during long paddling sessions. The 370 Pro also includes a foot pump, paddles, and a carry bag for easy transport.
How do Sea Eagle kayaks compare to other inflatables?
When it comes to performance, Sea Eagle kayaks stand out from other inflatable kayaks on the market. They are designed for stability and maneuverability, providing smooth rides even in rough waters. The durable construction and high-quality materials set Sea Eagle kayaks apart from the competition, ensuring longevity and low-maintenance ownership.
In addition to performance and durability, Sea Eagle offers a comprehensive lineup of models tailored to suit various needs, from solo paddling adventures to family outings.
What do users say about Sea Eagle kayaks?
Many users have praised Sea Eagle kayaks for their performance, durability, and ease of use. They appreciate the stability and tracking provided by the hull designs, and the quick setup time allows users to get on the water more efficiently. The convenience of being able to deflate and transport the kayaks easily has been a significant advantage for people with limited space.
When it comes to comfort, Sea Eagle kayaks have also received positive reviews. The adjustable and removable seats provide a customized paddling experience, and the spacious design allows users to stretch their legs or bring along their gear without feeling cramped.
Overall, users have expressed satisfaction with their Sea Eagle inflatable kayaks, as these boats offer a combination of performance, quality, and versatility that appeals to both beginner and experienced paddlers.
See our collection of Sea Eagle inflatable kayaks below: